Grown Men Playing with Legos-Why Prefab Construction is on the Rise
Marriott Fairfield Inn, a New York City residential skyscraper and a boutique hotel in Portland, OR, likely aren't the first projects that come to mind when you think of offsite, or permanent modular construction, but they are exactly where the industry is headed. In fact, the aforementioned skyscraper — the 363-unit, 32-story Pacific Park — will be the tallest modular building in the world when complete — representing a significant stride for the offsite and modular industries.
Modular building, however, is only one type of offsite construction, according to Tom Hardiman, executive director of the Modular Building Institute (MBI). "Other offsite construction processes include … wall panels, MEP (mechanical, electrical, plumbing) systems and bathroom pods," he said. Offsite construction simply means a building's components, while assembled on site, are built elsewhere, Hardiman noted.  According to the MBI, modular construction currently makes up 3% of new commercial construction in North America, but that figure is expected to edge up to 5% over the next five years.
"Our industry has been around for a long time," said Randy Duggan, business development manager with modular builder Guerdon Enterprises in Boise, ID. "It's just that the current construction market conditions are now such that developers are looking for alternatives."
Benefits of modular construction
Duggan said companies are searching for ways to increase the rates of return and are approaching offsite manufacturers in hopes of increasing turnaround time on their projects. Prefabrication can usually lop off six months from a project's timeline, Duggan said, but, of course, that depends on the type of project. There's no doubt, though, that the ability to eliminate six months of fixed costs and overhead from a project's budget could translate into hefty savings.
Aside from a reduced schedule and perhaps those cost savings, Hardiman said the modular process also taps into the appeal of green building. "Modular construction is greener because the factory-controlled construction process generates less waste; creates fewer site disturbances as on-site traffic is greatly minimized from workers, equipment, and suppliers; and allows for tighter construction," he said. In addition, like some of Panel Built's units, some modular buildings can be disassembled and re-used, thereby reducing the need for raw materials and the energy expended from constructing a new unit.
The aesthetic appeal of the latest crop of offsite projects once they're complete has also garnered the attention of the building community. Just don't compliment Duggan on how "pretty" they are. "When it comes to 'pretty,' that's up to the architects that design buildings," Duggan said. The company builds hotel rooms or apartments based on the architects plans and specifications, but the crews on site assemble and then finish the project. "We're grown men playing with Legos," Duggan said. "It's up to the architects to make the Legos look good."
Duggan added that because everyone at Guerdon is working on each apartment or hotel room at the ground floor level, the factory is a much safer place than a job site, where someone installing windows might be working several stories up in the air.
In fact, Duggan said, that standardization and the assembly-line style of manufacturing is one of the reasons Guerdon can deliver such a high-quality product. "We've got more than 200 people on our factory floor, and there's guys that work on the floors, on walls, on sheet rock, and they do it over and over and over, and they're very good at it, and they're fast," he said.
Expanding into new markets
Duggan said that in the early 2000's, Guerdon's primary business was single-family homes, but the housing crash in 2008 forced management to reevaluate and look for alternatives. It was fairly simple to "shift gears," he said, and focus on the apartment and workforce housing markets that were on the rise around the same time.
Panel Built, Inc. builds a more traditional type of modular structure, and the company primarily serves the manufacturing and military sectors. Panel Built's wall panel product can be broken down and relocated if needed, according to Elizabeth Satterfield, the company's marketing manager. The exception, she said, are structures like the ballistics buildings that Panel Built provides to the military, which are welded together and would have to be moved with a crane or forklift.
One area seemingly ripe for the benefits that offsite construction provides is affordable housing. However, Duggan said, his company's outreach efforts and offers to assist in developing solutions for communities suffering from low availability and skyrocketing home prices have been largely disregarded.
"It's not for lack of trying," Duggan said. "I've made presentations to affordable housing groups … met in their offices and flown all over Seattle and Portland and Northern California and given PowerPoint presentations until my fingers are numb." He said there are myriad construction rules and guidelines when it comes to affordable housing grants and subsidies. "It may very well be that we don't fall into (the parameters of) that system," he said.
However, Duggan said that he and his team "have always been puzzled" as to why there hasn't been more interest from the affordable housing community, particularly because so many cities are in the midst of affordable housing crises. Duggan said it could be that many of these agencies just aren't on a time critical schedule to solve their problems, which would be especially odd in San Francisco, as a recent survey found that one-third of residents plan to leave the Bay Area, largely due to the cost of housing. In addition, a net 625,000 former Californians have already left the state in search of a lower cost of living elsewhere, according to a Beacon Economics report.
Affordable housing units in Brooklyn built by Capsys Corp.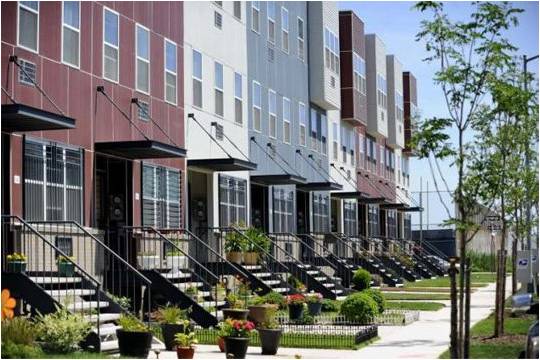 Credit: Modular Building Institute/Capsys Corp.
A perception problem?
Duggan said that when he approaches clients, oftentimes they ask him what is the one thing they can do to help the process along as far as determining if they're a good fit for offsite construction. "My answer is always attitude," he said. "If you're trying to take the way you've been doing business for the last gazillion years and try to take us and our product and jam that round peg into a square hole, it won't fit."
Duggan said that if people, including those in the affordable housing sector, would change their attitudes and their perception of what the product is and what the product can do, "there's a lot of solutions we can provide out there."
Despite some perceptions, Duggan said, there's no beef between his non-union teams and union workers, even though much of their market in the Western U.S. has high union participation. "They would prefer that all products are built with union labor, but there are times when the budget can't handle that."
However, in a union stronghold like New York City, building offsite des not preclude union participation, according to Hardiman. He said that Pacific Park met "some initial opposition from trade unions," but the manufacturer, FC Modular in Brooklyn, NY, "now employs trade union members and worked very closely with the local unions to ensure everyone was educated in the modular process."
Customer movement to offshore alternatives is not a worry for the industry yet, either. Duggan said Guerdon hasn't had any sense that U.S. customers might be trying to better-deal them by going to an offsite manufacturer in China, for example, or some other foreign location — primarily because of shipping costs. Satterfield added that recently, even though there are modular manufacturers in China, a Chinese company contracted with his company to provide modular units for its move from China to the United States.
Another factor that might be preventing the use of offshore-built modules is the issue of building codes. Because many units come ready-made, it's easy to forget that the building still has to be assembled on site and undergo the standard jobsite inspections, in addition to the standard factory inspections. The bottom line, Duggan said, is "if there was an advantage, and if they were following all the same building codes that we have to follow in the United States, somebody would be reaching out and asking them to build this product. And we just don't see that."
Nevertheless, Duggan said the industry is headed in an overall positive direction with more interest — and phone calls — all the time. However, perception is still a barrier to wider implementation. "Everybody understands that cars are built in a factory. Your computer is built in a factory … Everything that we use in our daily lives in some form or another is built in a factory," he said. "But they just can't understand how an apartment building can be. Apparently, that's too big of a leap."
USModular Home Builders – Your Go To Modular Construction Expert in California!
888-987-6638